Best Selling Handmade Artist Palettes
✨ PALETTES AVAILABLE FOR A LIMITED TIME ONLY ✨
New Stuff!
December's shop update available here:
Luna Moth Paint Palette

Amazing!!! Such a great product and truly good seller. Was a pleasure buying here and will be back

-Jenn

Terrarium Earrings- Gold

This is probably the coolest earring I own now they are perfect !

-Raff

Pac-Man Clay Earrings

So beautiful! I really love the quality of the earrings. They even arrived one day before expected arrival date.

Luna Moth Paint Palette

Absolutely gorgeous palette. I can't get enough of house it glitters in the sun. I was anxiously waiting on this after talking myself into spending the money for it. I can tell you it is worth it! I can't wait to use it, opened the package in my drive way I was so excited.

-M

Blue & Purple Morpho Wing Earrings

These earrings are insanely beautiful and so light you can't even tell you are wearing them!

-Ashleigh

Monarch Wing Earrings

I ordered these for a friend who is not only an earring collector but also a big butterfly fan. They were a HUGE HIT! She loved the colors, the quality, and the detail. I would highly recommend this shop and will likely order from them again.

-Linsey
Our Mission

We want to provide you with affordable, unique, handmade wearable art that suits any aesthetic or style. 🌸✨

Recycling & Upcycling

We want to reduce waste in our community. Many of our products are made with materials that we upcycle, repurpose and recycle.
Many of our jewelry styles utilize upcycled paper and beads saved from thrift store jewelry bins.

Analog Collages

We bring vintage and antique paper new life by sourcing and cutting all of our collages out of real magazines and books.

Thrift Store Rescues

Many of our trays & dishes are items that have been given a new life!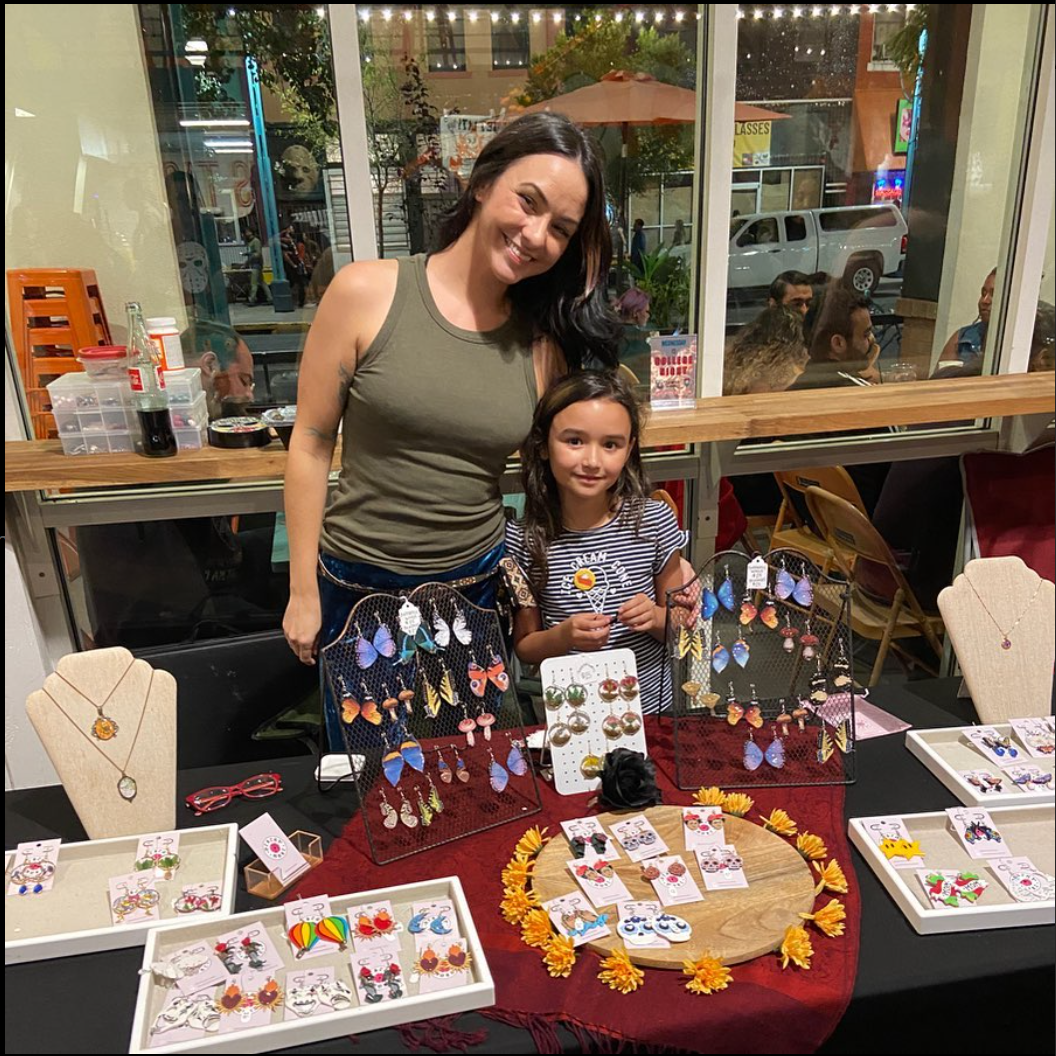 Popping Up & Setting Up Shop
We LOVE our local community and doing pop ups. You can find us at social events, fundraisers, and weekend markets. Come say hi and help us expand our community with connection!
You can also find our products at multiple local Albuquerque stores and artist collectives.
Click the link below for more information.
Pop Up & Physical Store Locations